the cresthaven Peaches are HERE!!
FRESH. LOCAL. ORGANIC.
CERTIFIED ORGANIC PEACHES
Our products
At our farm in South-East Kelowna, we have 5 varieties of peaches. All of our peaches are freestone and they all don't all ripen at the same time. This is really nice for us since we pick our peaches ourselves and it makes the tasks manageable, but still busy.
Harbrite
Harbrite is our first variety to ripen, which is usually in late July to early August. It is a medium to large sized freestone peach with red and gold skin. They have yellow flesh and can have a bit of red colouring close to the pit.
Since these are the first to ripen, they are also the first peaches we get to eat each year. We are always amazed at how sweet and juicy the Harbrite is.
Redhaven
A very common variety, the Redhaven is a great eating peach with yellow flesh. The freestone peach gets a nice red colour to it when it ripens. It is expected to be medium sized. At our farm they ripen second in late July to early August.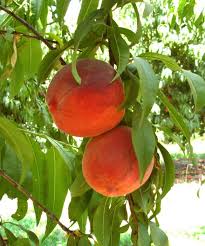 Suncrest
We don't have a lot of Suncrest trees (only 3 producing) but we have planted another 25 in 2019 and expect them to be ready by 2021. They produce large freestone juicy peaches with a little red blush.
Cresthaven
Our most abundant variety, the Cresthaven is an excellent eating peach and absolutely great for canning. It's yellow flesh holds up better than earlier peaches when processed and is still quite firm when ripe. We love its sweetness and for those of us who don't particularly like the fuzziness of peaches, these guys barely have any. These will ripen to a deep yellow and red skin from mid-august to early September.
O'Henry
We save one of our best varieties for last. The late ripening O'Henry is a peach lovers peach. It has a ton of peach flavour and aroma while being both juicy and sweet. Great for eating and canning. It will ripen near the end of August to mid-September with a very dark red skin and firm yellow flesh.